Your kids may enjoy the following chores and perhaps not even see them as such:
Plant a garden. Depending on the time of year, you can experiment with growing vegetables and fruit, annuals, or perennials. Involve children in preparing the soil, adding compost, choosing and planting seeds or plants, and in ongoing care such as weeding, watering and trimming. Mark the garden with the labels that come with the plants so your children will know what to expect when something green starts poking through the soil. Then ask the children to help harvest the vegetables or fruit and cut the flowers for a bouquet. Top off the benefits by delivering baskets of food or flowers to neighbors and friends. One of my own went through an "I love apples" phase after we picked apples at a nearby orchard. I imagine you could get the same enthusiasm with carrots or tomatoes! No garden but plenty of grass? Keep it trimmed with a kid-powered lawn mower.
Care for a pet. This is something the whole family can enjoy together. Walking or playing catch with the dog is the most obvious way to get a child into active mode while caring for a pet. Plan some sessions with your dog in the park or at the beach where everyone can run around. Taking some responsibility in caring for a pet, from petting to brushing to helping provide water and emptying litter, also will help keep your child moving. Don't have a pet and won't be able to get one anytime soon? Offer to walk or sit for a neighbor's pet, or check with shelters in your area that use volunteers to walk dogs.
Shovel snow. Why should the grown-ups have all the fun? Let your children help with this. And play along the way -- make snow angels or a fort or cave or start a snowball fight. Then go sledding for a reward for a job well done… and more exercise!
Paint the fence. Tom Sawyer got his entire neighborhood involved, so don't hesitate to let children help you. Water-based paint is a good idea. Have younger kids paint pieces of wood on a drop cloth or newspapers set out alongside the real project. A bucket of water will serve well as "paint" for the very young.
From Good Kids, Bad Habits: The RealAge Guide to Raising Healthy Children by Jennifer Trachtenberg.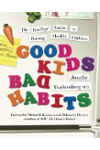 Some fun chores for kids are the ones which…
· provide the kids with a rewarding experience
· appeal to the kids' interests
· utilize the kids' strengths and talents
· expand the kids' horizon in developing self-confidence
· enhance the kids sense of pride
· increase the kids' sense of accomplishment and independence
Continue Learning about Parenting