To help you choose between your camp options, here is a list of some of things you might want to consider when selecting a camp:
What the focus is
Would he or she enjoy an academic camp? A sports-related camp? An environmental camp?
Which specific programs do you and your child want the camp to include: Horseback riding? Canoeing? Arts and crafts? Campfire songs?
How it's organized
Does your child enjoy or need structure at camp? Or a more relaxed atmosphere?
How much or little interaction will the campers have with the opposite sex? Will they participate in the same activities? Use a common dining hall?
How large or small is the camp? Would your child benefit from having the special attention that smaller camps can offer?
Quality issues
Are the counselors and staff well-trained?
How healthy are the meal and snack options?
Safety concerns
Will there be adequate supervision for all activities? What is the camper to counselor ratio?
Is the camp safe and secure?
Are background checks conducted on camp employees?
What medical facilities are available? Is there a doctor or nurse on-site?
Logistics
What is the cost?
Will the camp dates fit in with your family's schedule and vacation times?
Is the camp in a convenient location?
Is transportation to and from the camp available?
From Good Kids, Bad Habits: The RealAge Guide to Raising Healthy Children by Jennifer Trachtenberg.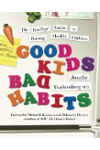 Continue Learning about Parenting