It's hard to stop your child's obsession to be super-thin since for some reason our culture just loves the pencil-thin look—and it's everywhere. When's the last time you flipped through a fashion or celebrity magazine? Only one body type is flaunted: thin, thinner, or thinnest. Make no mistake those images do influence our daughters' eating habits. And it appears far too many girls are partaking in extreme measures to achieve this absurd unhealthy, "unnormal" appearance to achieve "the thinner the better" look.
Here's more troubling news:
Half of girls eight to ten years old and one-third of boys are unhappy with their size 42 percent of six through eight-year old girls want to be thinner 40 percent of nine year olds have been on a "diet" and nine percent have vomited to lose weight 51 percent of nine-ten year old girls feel better about themselves when dieting Eighty-one percent of ten year olds fear being too fat 30 to 55 percent of girls start dieting in middle school. Preteen girls struggling with low self-esteem are particularly vulnerable to images of thin models and celebrities
It's time to recognize just how destructive this super-thin obsession is on our daughters and how it undermines their self-esteem and encourages eating disorders.
Here are a few beginning parenting solutions to help our daughters (and don't forget our sons):
Monitor the media your child consumes a bit closer (and make sure those bodybuilding magazines do not consume your son as well).
Limit your child's access to magazines that promote the "thin-is-better" look and get her a subscription to healthier alternatives.
Teach your child to be media literate and resist the ways television, movies and magazines portray underweight women as "glamorous," and muscle-bound men as "all-powerful."
Talk frankly about the unglamorous reality of eating disorders (damaged teeth; hair loss; osteoporosis, brittle fingernails, as well as even possible death).
And while you're at it, put down those celerity and fashion magazines with those covers that are plastered with skinny pop stars and models. Your child is taking notes.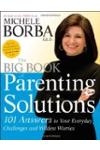 Continue Learning about Parenting