Here are research-based parenting practices to help your kids act morally which were adapted from my book, The Big Book of Parenting Solutions: 101 Answers to Your Everyday Challenges and Wildest Worries. They are significant in raising kids with strong, healthy consciences. They also help kids act right without us around to guide their every action (the real proof of good parenting!!) and stay on that ethical path.
Be a strong moral example. You are your child's first and most important moral teacher. By watching your choices and reactions and hearing your casual comments, your kids learn moral standards. So what you do in those little ordinary moments of life may be powerful moral lessons. How you treat your family, friends, neighbors, and strangers; what movies you watch and the kinds of books and television shows you choose; how you react to everyday moral conflicts: your child cheating, his friend lying, the neighbor littering-all are decisions and characteristics kids closely watch.
Develop a close, mutually respectful relationship. Studies find that kids are most influenced by those persons toward whom they feel the strongest attachment and deepest respect. They are more likely to copy these individual's moral beliefs. One of the surest ways to nurture your child's moralness is by developing a close, loving relationship with him. Experts say that the key is to make sure the relationship is mutually respectful: you treat your child with love and respect, and he treats you the same way in return.
Expect–and demand–moral behaviors. Experts find that parents who raise moral kids expect their kids to act morally-even demand that they do. Chances are that the kids will, simply because their parents require that they do. Once those expectations are set, parents must stick to them and not back down.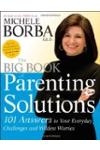 Continue Learning about Parenting