Make no mistake: our children's childhoods are dramatically being redefined by our new electronic world. While we parents can't rewind the time back to June, Ward, Wally and Beaver Cleavers' unplugged era, we can take intentional steps so our influence isn't way-sided by an electric cord. Here are parenting solutions to get you started to unplug your child from the electronic world:
Set clear unplugged times. I don't care what your kid is watching, playing, or hearing; too much "plugged in" isn't good for any kid. So strike the right balance of plugged and unplugged times. Establish definite unplugged times when conversation and face to face time are mandated. "Plug out" during those family meals (no television or cells phones allowed) or in the car pool (when you and your kid can be talking) or whenever there's a conversation that involves that child. Invest in a cell phone program which allows the parent to control the number of texts and minutes, block access to the web (or just don't buy that feature) and turn off incoming calls and texts at certain times (particularly during school and after bedtime). Consider taking that television out of your child's bedroom. And confiscate the cell phone after lights out.
Connect with your child through media. The media is part of our children's world and is here to stay, so why not learn to use it as a source of connection with your children? The plugged-in world can be a way to keep your relationship strong. Learn to text so you can text to your child. Play video games with your kids. Exercise with your kids with a Wii video game. Find a television show you can enjoy together and watch together. Just make sure you also converse while you're playing. This is also a great time to teach your kids media literacy.
Teach healthy media alternatives. If you want to wean your kid away from always being plugged in, then what do you want him or her to do instead? Many kids get into the plugged-in habit because they don't know healthy unplugged alternatives. Get out those library cards, puzzles, game boards, or cards. Set up that basketball net or find your kid a hobby he or she would enjoy such as knitting, yoga, beading, or drawing. Don't let your child become so plugged in that he tunes out the real world.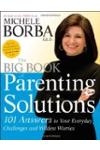 Continue Learning about Parenting