While touch is important for any loving relationship, it's really important when it comes to parenting. Touching in a loving way reduces levels of the stress hormone cortisol and increases levels of the feel-good hormone oxytocin, which is also the molecule that makes us feel bonded to other people.
Remember, kids are constantly exposed to stress -- maybe not the kind of stress we know, but stress that comes with the uncertainty that all kids experience (such as the stress of Mom leaving the room, the stress from not being able to cover his face from the sun, or the stress of not knowing if someone will ever change his stinking diaper).
That's why we recommend infant massage, holding your baby against your skin while feeding, even if you're not breast-feeding, and snuggling up for a good story.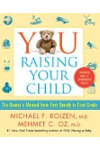 Continue Learning about Parenting