I'll give you specific solutions based on the latest research, to help you turn around this troubling materialistic trend with your child.

University of Minnesota researchers found a quick solution to turn materialism around is to compliment your child's INSIDE qualities instead of focusing on appearance or things. Simple but effective. The more those sincere, genuine, and specific compliments were geared at the child's "inside" strengths, the less the child had to focus on purchasing things to boost their "outside" appearance.

So to start using this simple solution, find a real and deserved quality your child deserves recognition for (maybe she is respectful, kind or fair) and then start boosting it. The research found the more you focus on a child's inside strengths, the less the kid needs to show off what he wears or has on the outside. Your goal is to try and convey this message to your child:

"Who you are is more important that what you own?"

Besides common sense parenting techniques of putting away your wallet, not being afraid to say no, spending more time than money on your kids, reducing the hoarding, and watching what you model, use the science-based technique from the University of Minnesota: praise your child's inside qualities.

There are dozens of other simple, practical and proven solutions to counter this troubling trend in my book: The Big Book of Parenting Solutions. My goal is to offer dozens of strategies for you to try. Your job is to choose the one that works best for your family. And then please stick with it until you reap the change you seek. After all, your only barometer of good parenting is for your child to act right without you. That means you need to parent for REAL and LASTING CHANGE.

If you need any other reason to put away your wallet and work on turning your kid's materialistic streak around, read this: The University of Minnesota found that materialistic kids are less happy, more anxious, less able to handle adversity, less generous and charitable and feel less secure and have lower self-esteem. And materialistic kids have lower opinions of their parents and argue with them more.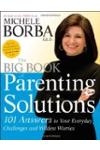 Continue Learning about Parenting