Have you noticed that we seem to have a lot of greedy kids these days? If so, you're not alone. The general public agrees and feels that increased numbers of today's youth are self-centered, spoiled. greedy and materialistic. Instead of being appreciative of what they have, these critters only seem to want more, more, more.
Think about it: if you incessantly prioritize your own wants and desires and put others' needs and feelings on hold, your life outlook is inevitably affected. More often than not, the message learned is that relationships are far less valuable than self and material possessions acquired. Bottom line: steady dosages of greediness are shattering to our kids' character. So if your child appears to have a case of the "gimmes", always puts himself first, and isn't appreciative what he has, it's time for a serious makeover. Start today by beginning a long-term commitment to inspire frugality, altruism, and generosity and reduce your kids' greediness.
Here are the Six Steps to Reduce Kid Greed and Reopen Generosity:
Step 1. Encourage Experiences That Nurture Strong Values.
Step 2
.
Tame the Gimmes, Then Don't Back Down.

Step 3. Monitor Media Consumption that Drives Greediness.

Step 4. Praise Charitable Deeds.
Step 5. Encourage Savings and Financial Planning.
Step 6. Require Giving to Others.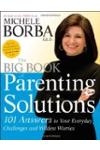 Continue Learning about Parenting