Camp is an unforgettable experience for a child. Whether it's a day camp or a sleepover camp, just for a couple of days or a few weeks, camps can provide wonderful opportunities for enrichment and recreation. They also can have a tremendously positive impact on your child's self-esteem.
For younger children, day camps are the best way to go. Children need to be emotionally and socially ready for an extended stay away from home before they attend an overnight camp. This readiness won't magically happen at a specific age, so whatever your child's age, you should give some thought to how he or she would fare being away from you for a week or more.
Please, don't put pressure on your child to attend an overnight camp if he or she isn't interested or ready for the experience. I know that you had a fantastic time those two weeks you spent at Camp Winnebago when you were your son or daughter's age, but it just might not be the right time for your child. He or she will enjoy the experience so much more if excited about it.
From Good Kids, Bad Habits: The RealAge Guide to Raising Healthy Children by Jennifer Trachtenberg.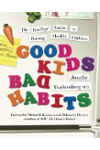 Continue Learning about Parenting