Setting limits in the simplest form helps to keep kids healthy. It provides them with enough sleep, good nutrition, and sense of well-being. When parents try to please their children too much it ends up hurting them in the long run. The immediate gratification of saying "yes" all the time does not empower children to make good decisions. Structure in a nurturing environment allows children to thrive.
Some tools for limit setting include:
Be consistent! As much as possible, everyone caring for the child (mom, dad, baby sitter, etc.) should have the same rules.
Be positive. Delivering your message in a positive way will help to encourage the behavior you want.
Keep it simple. Choose the important things without being overly rigid.
Please don't make the mistake of thinking that happiness means that the child always gets his way and always gets rewarded for good behavior with a new Hot Wheels. Why? Because with that approach, you create an environment where desires are always gratified, which we know is not the case in life. True satisfaction comes from successfully meeting appropriate challenges in a nonpressurized setting -- when a child feels confident that he will be loved for being himself, whether he's playing, working on a project, or simply exploring life. It's when a win is a real achievement that he has earned, not one that is engineered by his parents. While saying "no" may not always result in the most cheerful child, setting limits communicates to your child that you care about him, and there's a lot of happiness created (subconsciously, perhaps) when children know that their parents are there to protect them.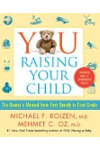 Continue Learning about Parenting