Checking up on the following things about a month after school begins can help reduce school stress for your kids:

*Schedule: This is the time to check your child's calendar to see if it is over-scheduled. Can you cut one thing? Ask him!

*Homework: Get to that open house and be sure to ask about the teacher's homework policy. How much does she expect kids to do each night? Is your child keeping up?

*Grades: Review those first test scores and grades on perhaps the first essay or book report. If there is a problem, check in with the teacher. Is your child in the right ability groups? Do you need to hire the high school student next door as a tutor?

*Social jungle: Bullies, mean girls and aggressive kids are unfortunately part of the school scene. How is your kid faring? For a quick gauge ask him to draw a map of the cafeteria: "Where do you sit? Who sits near you?" (The cafeteria is often a place where kids are most likely to be rejected. Does your child have social support?) Ask your younger child to draw the playground: "Where do you usually play? Who plays with you?" Every child needs at least one loyal buddy. If your child lacks one, then it's time to boost friendship making skills and extend those pal invites to your home.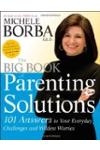 Continue Learning about Parenting