Use the right parenting formula. The research-proven formula for raising unspoiled, well-adjusted kids has two equal parts: Nurture and Limits. Is your parenting style evenly balanced between the two parts? Or are you emphasizing one element more than the other? Realign your parenting so it is a combination of love and limits; acceptance and structure; warmth and saying no. Every so often push the pause button on your parenting and consider your everyday responses to your children. Reconsider your values. Then ask yourself one daily question: "If my kids had only my parenting responses to watch today, what they would have caught?" Are my responses matching my parenting goals?
Stop rescuing! Good parenting is not about making sure your child is happy. A big part is about helping kids learn to deal confidently with setbacks and adversities that are an inevitable part of life. Constantly rescuing kids from frustrations does not help them learn critical coping skills. Nor does it help them learn that they can stand up on their own two feet and learn to depend on themselves. Unselfish and unspoiled kids learn to rely on themselves and not depend on others. Halt the rescuing! Help your child learn to slowly deal with life solo.
Nurture empathy. Unspoiled kids have learned to not always put themselves first, but instead to consider the needs of others. Empathy is that glorious capacity that helps a child think and feel from another view. Empathy is also the foundation to respect, caring tolerance, kindness, gratitude, and unselfishness. The key point here is that our children are hard-wired for empathy, but unless we nurture it, empathy will lie dormant. Materialism, lack of face-to-face interaction (plugging in too much), selfishness and a heavy diet of cruel media images are just a few factors that reduce our children's chances to feel for others.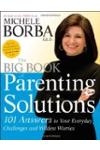 Continue Learning about Parenting