There is no love more intense than the love we have for our children. And wherever you find intense love, you're sure to find intense fear lurking just beneath the surface. And yet, motherhood brings out reserves of courage we never knew we had. Huffington Post commenter Deborah Daniels Wood writes: "Being a mom is probably the one thing that will make most women fearless. We would gladly step in front of a speeding train, a bullet, a raging mad dog, whatever it was that was threatening our children."
That's how I got through the hard times with my children. What has always helped me in dealing with my fears, is that I have to be fearless for my children, because there is nothing that strikes fear in a child's heart faster than a fearful parent. Knowing that you have to at least appear fearless for your children -- to convey the assurance that everything is going to be all right -- can have the effect of actually making you fearless.
And remember: when there are dead ends there are also U-turns, and if we don't panic, bridges can appear; we just need to trust that there is a way. And there is always a way. That knowledge is a gift of fearlessness we can model for our kids.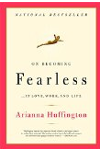 More About this Book
On Becoming Fearless...in Love, Work, and Life
Observing that her own teenage daughters were beginning to experience some of the same fears that had once burdened her--how attractive am I? do people like me? do I dare speak up?--Arianna...
Fear, as a first reaction to situations that we haven't yet mastered, is a normal, natural and expected part of life. Because we face so many unknowns in parenting, we should expect some fear, and not get upset when we feel that way, but, importantly, we should not stop there. We need to challenge our fears, look past them to the facts so that we can feel prepared, not scared in life. Whether we are worrying about our own competencies as parents, or worrying about our children's ability to handle the challenges they are facing, make sure to keep reality in the picture.
Our fears are very different from the facts. Balance out the picture. When you're worrying about your child facing the challenges of social rejection, play tryouts or even a medical scare, make sure that you think about your child's gifts, strengths and competencies. Don't let worry underestimate your child's ability to cope. Though we can't prevent our children from struggling in life, what we can do is help our children see themselves as capable, by keeping that picture of our children well in mind ourselves.
So our goal isn't to be fearless as parents, but rather to understand that while fear may be an inevitable stop along the way, our real job is to see beyond the fear and teach our children to do the same.
Continue Learning about Parenting