Kids learn gratitude by seeing others display appreciation in everyday, unplanned moments. How often do your kids see you convey your appreciation with hugs, words or small notes to others? How often do you tell your kids how much you appreciate them? Tune up your attitude of gratitude so your kids are more likely to copy your examples.
Set limits. Having too much squelches appreciation. So fight the tendency to overindulge your child with too many things. Always giving kids what they want does not help kids learn to be grateful and appreciative of what they have.
Thank your kids. Don't overlook your kids' daily thoughtful deeds. Just be sure to tell them what they did that you appreciate so they are more likely to copy your example and send their own "appreciation messages" to others.
Expose children to the less fortunate. Face-to-face experiences can go a long way in helping kids appreciate their blessings. So find ways for you and your child to do charitable work (playing with kids in a homeless shelter, reading to the blind, building low-cost house or delivering meals for the bed-ridden).
Say thank you. Parents who raise grateful kids don't do so by accident. They expect their kids to be appreciative and saying "thank you" is required from the time their kids learn to talk. Keep in mind that kids may need constant reminders: "Did you remember to thank Jeff's mom?" Don't overlook their slips: "You can call to thank her when you get home."
Understand the emotion behind the gesture. A hard lesson for kids to learn is that they're really thanking the person not for the gift but the thoughtfulness behind it. "Grandma thought a lot about what to give you this year." "Kevin went to five stores to try to find what would make you happiest." Keep reinforcing the thought that went into deed.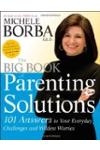 Continue Learning about Parenting