Say a prayer of thanks together before meals. But extend that so your children learn to count their blessings every day and reflect upon the good things in their lives. Here are a few ideas:
Review the good things. Help your children "count their blessings" every night by just reviewing all the things they are grateful for. If you're not doing this simple ritual, what better day to begin than now! Our children are exposed to so much of the doom and gloom about life. Let's help our children reflect on the simple, wonderful good things in our lives that we so often take for granted.
Thank you ABCs. This one is great for younger kids to do at the dinner table. You and your kids say the alphabet together, but for each letter include something you are grateful for: A, Aunt Helen; B, my brother; C, my cat and so on. Take it up one notch by having the person explain why he is grateful. Families with small kids rarely get beyond H, but the point is that you're having fun together, and your kids are also learning to be appreciative. Older kids can reveal one thing they are grateful for that happened to them during the day and why.
Say prayers of Thanksgiving. Say a prayer of thanks together before meals. Some families take turns so that each night a different member leads the prayer.
Create bedtime family blessings. Each child exchanges messages of appreciation for one another, followed by a goodnight hug and kiss.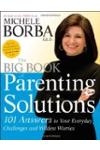 Continue Learning about Parenting