I have a behavior makeover to squelch materialism in your child.

1. Make your child write down or draw her intended purchase and post it at least 24 hours before she buys it.
2. Encourage your child's charitable actions so he understands you value unselfishness. "That was so kind when you shared your toys with Kevin."
3. Limit TV time. A study found that when TV viewing was cut by one-third, kids were 70 percent less likely to ask for toys.
4. Don't feel guilt about saying no. Always giving in to your child's whims doesn't do her any favors.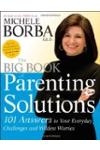 Continue Learning about Parenting