On average, children 8 to 18 spend more than 7½ hours per day using entertainment media, often more than one at a time, according to a Kaiser Family Foundation survey. Managing electronic use and establishing rules is crucial, whether it's for video game time, texting or hanging out on Facebook with "friends."
Try some of these strategies to help manage electronic usage:
Place controls on cell phones. Most providers, for a small fee, will allow you to turn off phones during the hours you choose -- after 11 p.m., for example.
Require that your children give you their phones at bedtime or while doing homework.
Prohibit texting and phone calls during meals.
Use tracking software to monitor when and where your child is online.
Experiment with a no-technology day for the entire family.
Be models for good technology use. Don't text while driving or sneak looks at e-mail while you're having a conversation with your children.
Here are some ways to limit your child's screen time:
Move it out. Take the TV, computer, and game consoles (Playstation, Xbox, Gameboy, etc.) out of all bedrooms.
Balance TV time and activity time. Make it a family rule that minutes of TV watching must equal minutes of physical activity. Want to watch that sitcom? First go for a 30-minute walk. Looking forward to that weekly drama? Play outside for an hour, then kick back on that couch.
Set limits. TV can be habit-forming. To keep from overdoing it, make a few house rules. Say, "Don't watch TV on weekdays," or "No more than an hour each night -- after homework." Set whatever limits work for you. The important thing is to have some limits, and stick to them.
Use a timer. One way to help limit your screen time is to use a timer. When the timer goes off, your screen time is up -- no exceptions!
Don't eat in front of the TV. Take the set out of the kitchen, and don't allow food in the TV room.
Don't surf. Schedule. Decide in advance what programs you want to watch during the week. Turn the TV on only when the show is on, and turn it off when the show is over.
Make the most of TV time. Use a treadmill or stationary bike while you watch TV. Do calisthenics during the commercial breaks. Watch TV standing up -- while you do arm circles, knee bends, and leg lifts.
Be conscious. Do you automatically turn the TV on when you come in the house? Does it stay on all the time, even if no one is watching it? Try to break these habits. Watch TV on purpose, not just because it's there.
Here's the number one rule to make sure that technology isn't a negative force: Limit your child's total "screen time" to two hours a day. Max. Including weekends. Screen time encompasses every possible activity that, well, involves a screen: using a computer, watching TV and DVDs, playing video games, text messaging, and otherwise gazing at any device that has a screen attached to it (but don't count the time he spends standing at the porch's screen door staring outside).
Remember that the two-hour rule applies to children over age two. Children under two should have zero screen time, according to the American Academy of Pediatrics. And that means no Baby Einstein or other "helpful" DVDs marketed to parents of toddlers. A child's brain develops rapidly during the first two years of life, and TV and other distractions can get in the way of growing emotionally, socially, and physically. Babies need to play and explore, not sit and vegetate.
From The Smart Parent's Guide: Getting Your Kids Through Checkups, Illnesses, and Accidents by Jennifer Trachtenberg.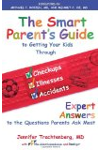 The most important thing you can do to prevent your children from overusing technology is set boundaries. Let's face it; children can sometimes act like professional beggars. When they want to get their way they can be relentless.
Who doesn't succumb to throwing a couple of coins in the proverbial cup to gain some much needed peace from time to time? When little Susie does not stop asking to use her handheld gaming device after bedtime and you are tired of repeatedly saying no you may eventually say, "Fine, but not for very long." This is the start of the slippery slope. When parents give in, it disrupts the boundaries and creates an ideal environment for behavioral issues to begin to develop. We know that we all make mistakes, so take this as a reminder to help keep slips to a minimum. Consistency, in the end, will make implementing boundaries easier for the entire family.
Also, keep in mind; rules aren't rules if there are no consequences. The best way to set limits is to:
Set clear guidelines and expectations.
Hold everyone accountable for abiding by the rules.
Establish consequences if rules are broken.
Reinforce good choices.
Excerpted from the iBook Unplug: Raising Kids In a Technology Addicted World by Lisa K. Strohman, J.D., Ph.D. Copyright © 2015 Lisa Strohman, J.D., Ph.D., Melissa Westendorf, J.D., Ph.D. Reprinted by permission of the author.
Continue Learning about Parenting