It's a parent's responsibility to ensure the safety of his or her children. Teaching your child to protect himself from violence will help keep your child out of harm's way.
Establishing a strong bond with your child will go a long way to help keep your kids safe as well as prevent them from inflicting harm upon others. Self-confident children are more likely to use words than fists to handle disagreements. Also, maintaining a close relationship with your kids can greatly reduce their chances of getting involved with gang activity -- some children turn to gangs as a substitute for a close family.
Let your kids know that violence is unacceptable. Teach your child how to resolve conflicts in a peaceful manner. Here are some good strategies for your child to implement when faced with potential violence:
Try talking it out with a clear and calm voice.
Use humor to diffuse the situation.
Come up with a compromise.
Avoid the situation or just walk away.
Notify an adult when it's beyond their ability to handle.
From Good Kids, Bad Habits: The RealAge Guide to Raising Healthy Children by Jennifer Trachtenberg.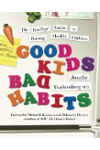 Continue Learning about Parenting