Young kids do not have internal brake systems and need you to calm them down or their frustrations can quickly escalate. In some cases you have only seconds before an exorcism begins so don't wait until your child is in full meltdown to apply these strategies.
Your best defense is to anticipate a tantrum's onset. Watch for your kid's signs that a tantrum is on its way: tension, antsy, a whimper. Then try some of these techniques. Hint: You really have to experiment with what works for your child but these are worth the try.
Predict tantrums triggers. The biggest frustration triggers for young kids are fatigue, hunger and boredom. You'll reduce many of those meltdowns by taking him shopping after the nap or eating a snack or letting him play with something while you wait.
Distract and redirect. Try to redirect your child's attention: "Let's go get your teddy." "I bet you can't jump up and touch the sky!?" Or try distracting your little one: "Look at that little boy over there." Your best bet is to try to divert your child's attention long enough to reroute his energy. But be quick -- you may have only seconds before the meltdown.
Name the upset feeling. Telling an upset kid to "calm down" won't cut it, but it helps to name the feeling to a nonverbal child. Get down eye-to-eye and in an exaggerated tone, put into words how the child is feeling. "Johnny is soooooo mad!!!" It's almost as though you see your little one look up at you with a, "Well yep. That's how I feel! Glad you caught on!"
I learned this technique from Dr. Harvey Karp, author of the Happiest Toddler on the Block, during a Parents magazine advisory meeting.
Turn don't to do. Little egos are forming and their little independence streak is churning, so watch out for overusing the word no, which can cause frustrations. You'll get far better responses if you turn your "Don't run" into "Let's walk." Firmly phrase your instructions in terms of what to do, instead of what not to do.
Use calming transitions. Try rubbing his back, holding him gently or humming a relaxing song. Try using softer voice tones or turn your hand into an instant puppet and make your hand talk.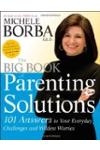 Children are most likely to have tantrums -- or, as I like to call them, "emotional storms" -- when they are hungry, tired, uncomfortable, or over-stimulated.

Minimize tantrums by being proactive about meeting physical needs and desires and anticipating potential tantrums in advance. Have a toy basket that only comes out when you are on the phone or the computer. Pop in an educational video while you're preparing dinner.

When possible, plan outings for times when your child is rested, fed, and healthy. Interact with your child throughout your activities, bring stimulating toys, and try improving communications using language development tools like my KidGlyphs app. Many meltdowns happen because children simply cannot express themselves!
Continue Learning about Parenting