I've seen kids as young as eighteen months who can pry open vials of meds, and plenty of adults who can't. By age three, some children are very skilled at popping open "child resistant" tops. So please make sure to keep all meds, prescription or not, out of sight and out of reach, preferably in locked places. Be sure that when Grandma and Grandpa come to stay that they secure their meds too. Many kids get into trouble when medications are left on a counter after use. Also, try to keep tabs on about how many pills are in your own medication bottles. If your child gets into one of them, it helps to know about how many pills he took.
Keep vitamins out of reach too. Formulas that contain iron are said to be responsible for 30 percent of children's deaths from poisoning. That's why you should never tell kids that vitamins are "candy." When Mom or Dad's not looking, they may grab more candy. Say, five or six handfuls. It doesn't help that a lot of kids' vitamins are shaped like cartoon characters and come in fun bottles. It makes it easier to get kids to take their vitamins -- but don't make it easy for kids to try to take them themselves. Also, make sure your child's younger siblings don't try to imitate a big brother or sister who takes a med. You may be able to trust your nine-year-old to take his medication after he finishes a video game, but you can't trust his two-year-old sister not to swipe his waiting pill off the kitchen table. An estimated 53,500 children, ages four and under, are treated in emergency departments every year after swallowing medicines that weren't intended for them.
From The Smart Parent's Guide: Getting Your Kids Through Checkups, Illnesses, and Accidents by Jennifer Trachtenberg.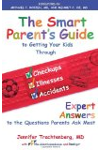 Continue Learning about Parenting