You should become computer literate quickly. You need to be savvy enough to help your child through this online problem and give him the best guidance. If you are not computer literate, now is the time. Here are some tips:
Go through that tutorial and read the manuals.
You might seek out your child's technology teacher and ask him to give you a quick lesson.
Do an online search on cyberbullying and the electronic device your child has.
Call your server and the company behind the product (the cell phone or computer). You may be surprised to discover how helpful they are.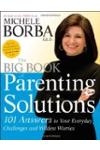 Continue Learning about Parenting