The good news is the later in life that you give birth the more nutrient stores your body has accumulated, the bad news is that the body also ages and begins to wear down (after 30) so your needs for certain nutrients may increase. In my new book, Mom Energy, I look at becoming a mom as a life stage and not an age. And regardless of whether you give birth physically, the decision to become a mom means giving out your energy to another so it's really key that you learn to build your own, Mom Energy.
More and more women are raising children in midlife. Some of us are becoming pregnant without the assistance of reproductive technologies; some of us are using technologies such as in vitro fertilization, either with our own or with a donor's eggs, to conceive; and some of us are adopting.
Midlife women may experience motherhood differently than younger mothers do. As older women, we are more likely to be financially and emotionally prepared to raise a child and bring a wealth of life experiences to our mothering. Those of us who delayed childbearing for a long time or struggled with infertility often particularly savor our parenting experiences. On the flip side, we may have less energy to bring to the physical and emotional labor of raising children and may have very high standards for ourselves and our children that are difficult to live up to. We also may find ourselves coping with the menopause transition or caring for our elderly parents at the time when we are still changing diapers.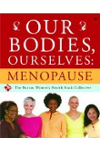 More About this Book
Our Bodies, Ourselves: Menopause
FROM THE EDITORS OF THE CLASSIC "BIBLE OF WOMEN'S HEALTH," A TRUSTWORTHY, UP-TO-DATE GUIDE TO HELP EVERY WOMAN NAVIGATE THE MENOPAUSE TRANSITION For decades, millions of women have relied on Our...
Continue Learning about Parenting