Here are some non-pharmaceutical tips to ease the travel time:
Travel at off-peak times. With luck, the plane will be less crowded.
Make sure your child is well rested before boarding the plane . . . or try the reverse! Take a red-eye flight during your child's normal sleeping time. Some children will sleep all the way through a flight.
Bring your child's car seat on the plane. It's comforting familiarity may be calming.
Have plenty of diversions. DVDs, snacks, crayons, toys, games—whatever you think will staunch a crying fit. If people suggest slipping the little tyke a cough suppressant, allergy medicine, or other drugstore sedative, thank them for the tip and suggest that they get something a little stronger from the flight attendant to blunt their own senses a tad. Nobody likes a screaming baby at forty thousand feet, but when sedatives are concerned, parents need to be more worried about their child's health than about getting dirty looks on a 747.
Postpone the trip to next year. I'm serious. Many parents end up wishing they had. If a journey isn't urgent, delaying it may be the smartest move. Toddlers under two (and sometimes older kids) can be horrible travellers and ruin the excursion. Think hard (and factor in any health issues your baby could have along the way): Is this trip worth it?
From The Smart Parent's Guide: Getting Your Kids Through Checkups, Illnesses, and Accidents by Jennifer Trachtenberg.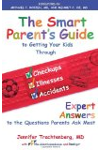 Continue Learning about Parenting