It's impossible to eliminate harmful germs entirely, but you can help your child develop a solid defense plan to reduce the numbers of malicious invaders. You know that old, corny saying, "An ounce of prevention is worth a pound of cure." It doesn't take a ton of effort to guard the body from those germs that can cause illness. Think of your child's hygiene habits as the gatekeepers to that good health, restricting access and maintaining the harmony that keeps his immune system running smoothly. They are your child's first line of defense. I can't promise that your family will never get hit with another cold or suffer another bout of the stomach flu, but with proper hygiene practices in place, you can greatly improve the odds that your family will stay healthier.
From Good Kids, Bad Habits: The RealAge Guide to Raising Healthy Children by Jennifer Trachtenberg.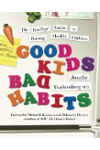 You can keep your child safe from germs by teaching him how to practice good hygiene. Germs are everywhere in the environment, and not all of them are "bad." But when it comes to dangerous germs, like viruses and bacteria that can make people sick, the number one way to avoid them is with thorough, and frequent, hand washing. Start as soon as he's old enough to stand at the sink, and teach him how to get his hands wet, lather up with soap and scrub for at least 20 seconds (the amount of time it takes to sing the Happy Birthday song through twice) before rinsing.
Some other ways to keep your child safe from germs:
When he can't wash his hands, have him use hand sanitizer.
Make sure he's up-to-date on all of his immunizations.
If he's sick, teach him to sneeze and cough into his elbow instead of his hands so that he doesn't leave germs on them that he can then spread when he touches other kids, toys, doorknobs and other things that other people handle.
Good hygiene is the best way to keep your child safer. The best and simplest method is washing your hands with soap and water or using an alcohol-based gel. Most people get infected with viruses because they touch something that has the germ, and then they touch their food or their face. Frequent hand washing, especially prior to eating or touching the face, will decrease the transmission of germs significantly.
Continue Learning about Parenting