How can I help my child's brain develop?
There is mounting evidence that early experiences can dramatically alter the way genes are expressed in the developing brain. Good experiences help any brain develop well.
Experts agree on the 10 top experiences needed for your child's brain to develop and thrive:
Interaction
Touch
Stable relationship
Safe, healthy environment
Self-esteem
Quality care
Communication
Play
Music
Reading
You, along with the other caregivers in you child's life, provide the stimulation that is essential for growth. By talking to your children, singing to them, and reading to them, connections develop within the brain and become stronger with time and repetition. That's why young children love to hear the same song or the same story over and over and over again.

Exasperating to the parents? Yes. Important for your child's cognitive development? Absolutely! So, take a deep breath, and get ready to sing "Wheels on the Bus" for the 15th time, not only because your baby loves to hear your voice, but because it's helping her brain grow.

From Good Kids, Bad Habits: The RealAge Guide to Raising Healthy Children by Jennifer Trachtenberg.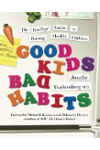 Continue Learning about Parenting
Parenting is both a science and art, requiring a mother or father to understand important issues that affect their children including safety, health, discipline, communication and play.