There are so many fabulous opportunities to help our children discover their special talents and strengths. My Girl Scout leader from years ago was a master. Mrs. Woolley made us feel great by pointing out what we were good at. I always marveled at how she remembered our personal competencies. Then one day I discovered her secret when I found her notebook opened to a page filled with notes: "Meghan is interested in acrylics, Kelly's soccer game, Joanne's music recital." It was her way of making sure no girl's talent was ever overlooked.

Years later I still admire (and use!) Mrs. Woolley's simple but powerful way of helping kids discover their strengths! It's a secret we parents should be using far more. The more our children recognize their unique strengths, the stronger their self-beliefs will be. So help your child become aware of his or her own special qualities and talents. (And halt those comparisons to other siblings!)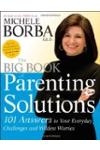 You can help your children discover their strengths by first knowing your children's likes and dislikes, and by identifying and exploring with them their personal interests and innate talents.
When necessary, you can help your children reinforce and enhance their strengths by supporting their further development in those areas of interests and strengths.
The consistent and ongoing affirmation of their strengths can continuously bring their strengths to the forefront of their conscious mind for further enhancement.
Continue Learning about Parenting