Here are some ways to help a child be successful in school and be a lifelong learner:
1. Define style. Determine your child's learning style:
Visual: learns best seeing teacher, diagrams on board, pictures in books.
Auditory: learns best by listening to lectures, discussions among classmates.
Kinesthetic: learns by engaging with his environment.
2. Enlist help. Partner with your child's school to implement a program that encourages success.
3. Keep focused. Work on what needs to be worked on, then move on.
4. Celebrate success. Praise your child often for what she is good at and encourage continued growth in those areas.
5. Stay positive. Don't allow your child to define herself by her limitations: "I'm no good at math" or "I'm a bad reader."
6. Track progress. Put the spotlight on how hard she's trying, how far she's come.
7. Offer perspective. Let them know you make mistakes, perfection isn't the goal, and that mistakes are an opportunity to learn.
From Good Kids, Bad Habits: The RealAge Guide to Raising Healthy Children by Jennifer Trachtenberg.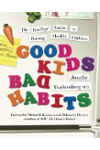 Continue Learning about Parenting