Young kids will be helped by a simple explanation of what is going to happen and maybe even a drawing, while older kids may appreciate more information. Making comparisons to other ouches can be helpful; for example, if your child is afraid of a shot, you can say it will hurt for a second, just like a pinch or a bug bite, but then it'll stop. The pediatrician may ask him to yell "Ouch!" or use another tactic to distract him from the pain.

Do your best to get him some real pain relief whenever possible, too. If your child needs to have a shot, blood drawn, or stitches, ask about "ouchless" options. For example, there's a numbing cream the doctor can apply to his skin, but it takes about one hour to work. For minor lacerations, you can ask the doctor if skin tape (called Steri-Strips) or skin glue might work instead of stitches.

From The Smart Parent's Guide: Getting Your Kids Through Checkups, Illnesses, and Accidents by Jennifer Trachtenberg.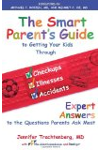 Continue Learning about Parenting