What your child learns at school may not have a lasting impact on him if it doesn't seem to be connected to the world outside of school.
If your child can use new information in a context outside of the school setting, he will be more likely to see the importance of the new information and how it can actually help out in the real world.
Here are some examples of ways parents can help link learning to the world outside of school:
Take some time on Sunday morning and read the newspaper with your child. Discuss or debate hot topics in the news. Doing so will help your child develop critical-thinking skills.
Talk about world events and how they relate to what your child is studying in history or geography.
Discuss the price of gas or rates of inflation as a way to use percentages.
For younger children, let them use their own money to buy candy at a store and talk about how much items cost and how much change he should receive.
Dictate your grocery list to improve printing or handwriting skills.
Cook together. Measuring recipe ingredients gives meaning to fractions.
From Good Kids, Bad Habits: The RealAge Guide to Raising Healthy Children by Jennifer Trachtenberg.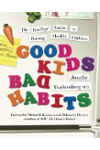 Continue Learning about Parenting