Fears in childhood are normal. Be an attentive, patient listener and allow your children to voice their fears to you. If you can identify your child's stressors ahead of time, you may be able to prevent negative reactions to stressful situations by helping your child prepare for them. Talking about an upcoming event well ahead of the date - like a visit to the doctor's office, for example - will help your child mentally prepare for it. You can read a children's book together about what a doctor's check-up entails, you can even play pretend about what is likely to happen at the office. What children seem to fear the most is the unknown, so help them become familiar with what is to come and you can minimize their anxiety about it.
From Good Kids, Bad Habits: The RealAge Guide to Raising Healthy Children by Jennifer Trachtenberg.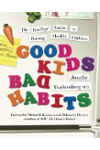 Although it can take time, children can learn to face down their fears. In this video, psychologist Dr. Tamar Chansky, who specializes in anxiety, offers de-scare tactics for parents of fearful kids.
Continue Learning about Parenting