To make a trip to the supermarket a pleasant experience for everyone, try a couple of different strategies. For starters, give each of your children a job to do and make it age-appropriate. For example, one child can be in charge of the shopping list, checking off the items as they're placed into the cart. Another can manage your coupons. Let them trade off wrapping the twist-ties around the produce bags. Keep them busy, and they'll have less time to pester each other, and you.
One job all the kids should get involved with is selecting produce. This can be fun. Because the goal is to get a wide variety of fruits and vegetables into their weekly diet, let each child select an old favorite and then have them pick out something unusual or that they've never tried before. For teens, have them plan ahead by choosing a recipe featuring one of the unusual-to-them items, and then put them in charge of collecting the ingredients and preparing the dish for the family to try.
For young children, you can make a game out of it. Tell your kids that the family is going to eat a rainbow, and have them choose fruits and vegetables from every color group. There can be strawberries and rhubarb for red, carrots and kumquats for orange, and bananas and acorn squash for yellow. That way, you'll be sure to get a diverse selection of food, and you may even find some new foods that you all love.
From Good Kids, Bad Habits: The RealAge Guide to Raising Healthy Children by Jennifer Trachtenberg.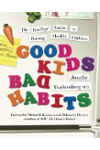 Continue Learning about Parenting