All children need validation and acceptance, and sometimes a gifted child may feel different from other children and have trouble connecting with his peers. He may repress his intellectual ability, pretending he doesn't know as much as he really does so that he can fit in. Conversely, he can be boastful, or a bit of know-it-all, which often alienates him from his classmates.

Several patients of mine have had great success with mentors. If you can find a mentor who is a good match for your child, the relationship can really help him develop his social skills. Mentors also can provide encouragement, inspiration, new insights, and other rewards for children of all ages and academic levels. Ask your child if he is open to teaming up with a mentor. If so, ask his teacher to help identify a few mentor candidates.

From Good Kids, Bad Habits: The RealAge Guide to Raising Healthy Children by Jennifer Trachtenberg.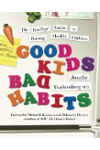 Continue Learning about Parenting