Think about this: The more activities your child tries, the more likely it is that she will find an activity that she loves and excels at. Trying new things does take a level of self-confidence, a belief that even though a situation may be unfamiliar, there's no reason to be afraid. Trying new activities will also give your child's confidence a boost, even if a particular activity doesn't turn out to be a lifelong love. How will your child know if he doesn't give it a shot?
Children may be more likely to try new activities if parents don't force them to stick with something they don't particularly enjoy. If you've paid for 10 weeks of gymnastics classes, by all means, see to it that your child finishes the session. But, if after 10 weeks, gymnastics turns out not to be her thing, try something else next. Piano lessons? Ice-skating? Give your child permission to fail and still feel good about himself. Talk about how we all learn from mistakes... for example, "Well! Now we can rule out ice skating as your life's pursuit!" A closed door on one activity can lead to a new open door on something your child finds more exciting. Check out the local recreation center's list of classes to find a wide variety of options for new things to try, usually at very affordable prices.
From Good Kids, Bad Habits: The RealAge Guide to Raising Healthy Children by Jennifer Trachtenberg.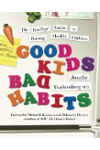 Continue Learning about Parenting