Here is a behavior makeover to nurture tolerance in our children.
Encourage your child to look for what he has in common with others instead of differences. "Now let's try to think of ways you're the same."
As a family tune into the way you talk about people or groups. The secret is to listen for any sweeping categorical comment like "You always.." "They never.." Chances are what follows is a stereotype which are the seeds of intolerance. The household rule is for another family member to gently remind the speaker by saying, "Check that."
For example suppose your child says "Jocks are stupid"
You respond: Check that! Does that apply to every player on your team?
Checking generalities and stereotypes is an important part of ending prejudice and helping our kids become more tolerant and accepting. Remember, hatred is learned, but so too is sensitivity and tolerance.
You can find more behavior makeover tips in the book, No More Misbehavin' Whatever you try remember to consistently use the method until you do get the change you want.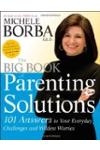 Continue Learning about Parenting