As a mother, you can assign a specific day to prioritize and plan: This gets you into the habit of scheduling food and workouts around non-negotiable commitments; maybe you can get other family members involved and divvy up responsibilities.

Set a time and day for laundry, food shopping, meal planning, house cleanup, and so on. Typically a Sunday is the ultimate day to prioritize. Make sure that you spend some time looking ahead at what's coming so you can prep yourself. Note the pitfalls: the two-hour parent-teacher night that tends to last three hours; the regular Thursday staff meeting; the 85 unanswered e-mails that could consume the entire morning. Every day has its molehills, but if you're prepared and limit the time you give them, they won't turn into mountains.

Know your appointments and commitments, but look at them in terms of where you're going to schedule workouts, "me" time, and obligations you want to keep for yourself. For example, Tuesdays and Fridays could be your 5:30 a.m. workouts while Wednesdays are the day you'll exercise after the kids go to bed.

When you have a realistic plan in your head and on your calendar, chances are you'll follow it closely. You'll feel in control and manage to fit everything in and have room for the unexpected. You may, for instance, hit a week where you realize that there are three nights that you cannot make dinner for your family. Knowing this in advance allows you to plan accordingly; maybe that first night will be Crock-Pot dinner, with leftovers the next night.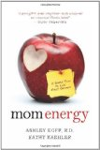 More About this Book
Mom Energy: A Simple Plan to Live Fully Charged
       From celebrated dietitian Ashley Koff and fitness trainer to the stars Kathy Kaehler comes Mom Energy, an exciting new way for moms to tap into their own natural and renewable sources of...
Continue Learning about Parenting