Often kids feel so much pressure that they become obsessed with doing everything perfectly. Perfectionist kids are more at risk for emotional, physical as well as relational problems. Here is parenting advice to help kid perfectionists survive, cope, and thrive.
Teach stress busters. Show your child a few simple relaxation strategies such as taking slow deep breaths, listening to soothing music, walking, or just taking ten and lying on the couch to help improve her frame of mind and reduce a bit of that intensity—at least for a few minutes.
Help your child handle disappointment. The inner dialogue of a perfectionist is self-defeating. "I'm never good enough." "I knew I'd blow it." So help your child reframe his self-talk by teaching him to say to a more positive phrase that's less critical and judgmental and more reality-based such as: "Nobody is perfect." "All I can do is try my best." "I'll try again next time." "Believing in myself will help me relax."
Start a family mantra. One way to help your child realize that mistakes don't have to be seen as failures is to come up with a family mantra such as: "A mistake is a chance to start again." Or: "Whether you think you can or that you can't you're right." Then pick one phrase and say it again and again until your child "owns it." You might even print out a computer-made sign and hang it on your fridge.
Teach "Take a reality check." Perfectionists imagine something horrid will happen if they hit the wrong note, don't hit the high beam, or don't make the standard they've set for themselves. Your role is to challenge their views so they don't think in such all or nothing; black or white thinking, and help them dispute the belief. For instance: Kid: "I know the moment I pick up my pencil I'm going to forget everything I studied all year." You: "That's never happened in your entire life. Why now?"
Remember, the parenting goal is not to change your child, but to help her learn coping skills and expectations that will reduce her self-made pressure. Stress stimulates some kids, but it paralyzes others. So tune into your child.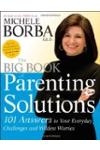 Continue Learning about Parenting