Here are a few solutions that might help you save your sanity and stay connected with your teen.
Know teens really are a little bit crazy. If you think you suddenly have an alien in your midst, applaud yourself. You right. At no other time in your teen's life will his body be undergoing so many physical, sexual and emotional changes. And you're not imagining those mood swings: Your teen's quick-fire emotion switches show up on brain scans. So a big parenting solution is to alter your parenting response to this new kid you suddenly have on your hands.
Don't overreact. Teens experience feelings more intensely and often overreact because they think we're upset or angry. So try to count to three (at least) before talking to a moody or defiant teen. Stay calm. Lower your voice. Clarify emotions: "Are you thinking I'm mad because I'm not." Or take a time out: "I need a moment to get it together." Remember that teens often misinterpret feelings so they might misread your facial expressions. Labeling your feelings so they aren't misconstrued can help: "I know you think I'm mad, but I'm really tired. I've had a tough day at work."
Don't take it personally. Teens will be more defiant and will take issue with things they don't consider fair. They will argue. In a few years they're going to be out on their own and their need to be "independent" or at least treated as an adult is paramount. Once the tsunami is over and the waves are calm, do reconnect with your teen.
Empower your teen. Whenever appropriate (and whenever you're willing to accept his verdict), ask his opinion. "Where should be the rules for the car?" "What should be the consequence if you break curfew?"
Pick your battles carefully. Choose what is not negotiable. You don't want to argue every little issue, so select issues you really do care about and won't deviate from. Then let the other more minor issues go. Figure out what really matters and stay true to those issues. For instance: Obeying curfew is your major; cleaning her room is your minor.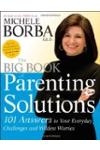 Continue Learning about Parenting Teens