Even if you are confident in your child's driving skills, you'll want to keep a close eye on him during the first few years he is driving to make sure he continues to master the rules of the road.
Give him as much behind-the-wheel driving practice with you as possible. This will help your child get a better understanding of and respect for the dynamics and power associated with driving a motor vehicle. It will also allow you to point out some of the mistakes and errors other drivers commonly make and talk about how important anticipating the actions of other drivers can be. New drivers often are so focused on their own driving that they fail to notice how other drivers behave on the road. This also may help your child feel better about his own driving skills.
Regular reminders about safety rules are always a good idea even if you start to feel like a nag. Seatbelt use tends to decline quite a bit during teenage years, especially among boys, so make it known that everyone in the car must wear their seat belt on every trip, even short trips.
Until new drivers have developed their skills sufficiently, it also is wise to limit the number of passengers your teen is allowed to have in the car. The risk of fatal injury for a 16- or 17-year-old driver has been shown to increase with the number of passengers riding along. Even having just one other teenager in the passenger-side front seat can cause a teen driver to be more careless.
Other passengers aren't the only distractions teen drivers need to be concerned about. Talking on a cell phone, fiddling with the CD player, putting on make-up, or even eating or drinking while driving are all distractions that can lead to accidents. Remind your child that he needs to remain focused on the road at all times so he'll be able to react quickly and drive defensively. Talk with your children -- even if they don't drive -- about how passengers and other distractions can lead to accidents.
From Good Kids, Bad Habits: The RealAge Guide to Raising Healthy Children by Jennifer Trachtenberg.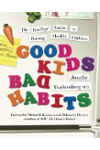 Continue Learning about Parenting Teens