All children face a variety of health problems as they grow and change. For most children these problems are temporary, they come and go without interfering with their daily life and development. However, many children have chronic health conditions or disabilities that are more long-lasting and have a bigger impact on their everyday lives. More than 15% of children in the United States have such chronic health conditions.
Visiting with your doctor on a regular basis becomes even more important if your child has special health needs. Your child's healthcare providers will work with you and your child on developing a management plan for his particular condition. They also will help you modify the plan when necessary. With an established plan, he will grow accustomed to managing his condition, and learn from an early age how to best take care of his health.
Helping your child follow the plan consistently and learn to manage any chronic conditions on a daily, moment-by-moment basis can mean the difference between a long and happy life and a short, bed-ridden one. I know it sounds harsh, but it's true. The sooner you take on this challenge, the more comfortable your child will be in taking care of her condition as easily and automatically as she brushes her teeth.
And remember, the better you and your family understand the condition and its treatment, the better you will be able to control it. So be sure to keep up to date on the latest research and findings on any conditions.
From Good Kids, Bad Habits: The RealAge Guide to Raising Healthy Children by Jennifer Trachtenberg.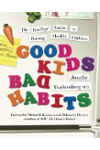 Continue Learning about Parenting Special Needs Children