Many of us imagine that raising a child with a disability is much harder, more costly in dollars and emotion, and much less rewarding personally than raising a child who doesn't have a disability. We fear that our marriage will break up under the strain, or that we won't have the money for medical care or special equipment, and that our other children will be neglected because of the particular needs of the child with the disability.
These are understandable concerns. You will need to get information from knowledgeable people - such as genetic counselors and parent/advocacy groups - to help you think about these realities. The community of people with disabilities and their families is generally better than health care professionals at telling you what life is really like.
Families of children with disabilities have periods of stress and hardship, especially when the diagnosis or prognosis is uncertain. Yet recent research has found that families raising children with disabilities are much more like other families than they are different. Studies conclude that families also have more periods of going about ordinary life and figuring out ways to adapt to their child's disability than they do periods of stress and hardship. All families everywhere must adapt to features of each person in the household, with or without disabilities.
All parents face the challenges of getting enough emotional and practical support from family and friends, taking enough breaks from child raising to pursue other parts of their lives, and having the money, the time, and the social situation to make parenting more joyful than it is exhausting. If a parent cannot find funding or services to help accommodate a child's disability, the stresses and struggles of child raising will be compounded.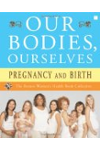 More About this Book
Our Bodies, Ourselves: Pregnancy and Birth
ALL THE INFORMATION YOU NEED TO MAKE WISE DECISIONS ABOUT YOUR PREGNANCY AND THE BIRTH OF YOUR CHILD -- FROM THE EDITORS OF THE CLASSIC "BIBLE OF WOMEN'S HEALTH" Pregnancy and birth are as ordinary...
Continue Learning about Parenting Special Needs Children