The family road trip is as Americana as apple pie. So how can parents plan a family road trip with their kids, reduce stress, and fondly remember it all their lives? There are some ideas to try:
Set Car Rules
How many times do parents have to say: "Keep your voices down!!!" or "Take Turns," while travelling with their kids? Clear expectations help reduce flare-ups, so set rules for the car and then explain them to your kids before starting that engine and pulling out your driveway. Typical car rules are: "Indoor voices. Seat belts. Hands-to-self. Pick up your mess." Even better, post your rules in the car on a small white board as a "friendly reminder." Your best discipline ploy for a severe kid behavior infraction: Pull off the road (after checking your rear-view mirror) and turn off the engine. Once your kids know you mean business, it's amazing how quickly they resolve their squabbles. (Especially if they see you reading a magazine and figure out that they may be not be moving for a while until they do).
Arrange No Cost, No Fuss Family Travel Games
A key to keeping kids' behavior in check is fighting off those dreaded "I'm boorrrred" cries. That means keeping the kids occupied without you having to jump over the front seat to do so. This is a great time to introduce all those family road trip games you played as a kid like the License Plate Game (pack a U.S. map and start a family contest to see if you can find a license plate per state) or I Spy which are especially great for extra-long driving stretches.
A must for any car trip is a cookie sheet. (No kidding!) Pack one per kid because they have multiple uses. You can stack and store them easily under the front seat, and then pull them out and convert them into instant tabletops to play card games like Old Maid or Fish, color, write postcards to friends or even snack on as trays. Most cookie sheets are magnetic, so kids can play magnetic games on them without worrying about pieces flying all over the car, and their rims keep all those smaller cars, blocks and crayons from slipping off.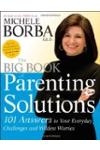 Continue Learning about Parent-Child Relationship