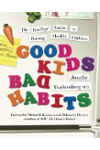 Sometimes it is better to ease in to a difficult conversation with your child. Here are some ways you can get a conversation started:
Read a newspaper or magazine article aloud and discuss it.
Watch the evening news with your child and talk about local, national, and world events.
Many popular family-oriented television shows delve into issues like smoking, alcohol use, and relationships. Use these programs as a springboard into discussions after the show is over. Commercials and public service announcements can also serve as conversation starters.
From Good Kids, Bad Habits: The RealAge Guide to Raising Healthy Children by Jennifer Trachtenberg.