Pinworms live in your intestines by day, but each night they go on a mission. As you sleep, they crawl out of your anus and lay eggs on your skin. At the same time they release chemicals that irritate your skin and cause it to itch. As you reach down to scratch, your fingers get coated in eggs, which rapidly spreads the infection around your home or office. Young children get the worst pinworm infections, as almost any parent knows, because they frequently put their fingers in their own mouths, delivering the eggs directly to their target.
This content originally appeared on
doctoroz.com
Just when you thought it was safe to go to bed, your child tells you that his tushy itches, and he's scratching his behind more than a ballistic baboon. Your flashlight reveals the intruders: pin-sized, white, stringy things peeping out at you from around the anus. Pinworms come from spores that are in dirt and the environment (think: sandbox) and that find their way from a kid's hand to his mouth.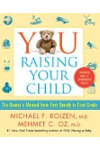 Continue Learning about Parasitic Infections