Although panic attacks and hyperventilation both have physical processes that are also associated with them (i.e., thyroid disorders, magnesium and vitamin deficiencies, etc.) I have found that the most common psychological component is the burying of feelings. Most people find that these attacks occur not during periods of stress, but when they finally have a chance to relax, such as when they are driving a car or watching television. This is because hyperventilation and panic attacks are often caused by suppressed feelings. The attacks occur when these feelings finally bubble up to surface while being split off from the triggering event. In susceptible people, this then triggers the attacks.
Although one can break the biochemical part of the attack by breathing in and out of a bag (this raises carbon dioxide levels in the blood, which can end the attack) or doing abdominal breathing where the abdomen expands outward during inhalation allowing the person to take a bigger breath, the most important long-term solution is to simply feel what one is feeling without resistance.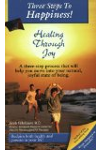 More About this Book
Three Steps to Happiness! Healing Through Joy
Happiness is our natural state of being. It is who we are. This happiness is obvious when you look at little children before they take on society's beliefs. Their natural state is to feel all of...
Continue Learning about Panic Disorder Causes & Risk Factors