Straight leg raising is particularly effective for lower back pain accompanied by referred or radiating pain in the buttock and down your leg. This is a difficult stretch to do by yourself, and it is best if someone is there to assist. Getting help with this stretch allows you to relax the surrounding muscles and let your assistant do the work. This stretch is designed to loosen muscles in the lower back, buttock, and hamstring (back of your thigh). It can have the added benefit of decompressing the large sciatic nerve that may be entrapped or irritated by surrounding tissues and is often associated with referred or radiating leg pain.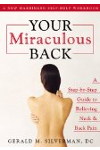 If you've got radiating butt and leg pain, first see your physician and get to the root cause of the pain. As Dr. Silverman mentioned you could have a compressed sciatic nerve? Radiating pain can be serious and you wouldn't want to make things worse before finding out the source of your pain.
Once you've done that, a great foam roll and stretch for the muscles in the area that surrounds the sciatic nerve on the bottom of your pelvis (the piriformis) and the muscles that make up the majority of your butt (the gluteals) is the Piriformis roll and stretch.
Foam rolling before static stretching will give you a much better lengthening effect to the muscles.
Here's a link for the Piriformis Foam roll: http://www.hfpn.com/library/exercise.aspx?id=7044
And here's a link for the Piriformis Stretch: http://www.hfpn.com/library/exercise.aspx?id=7056
If you are experiencing radiating leg and/or buttock pain you should seek physician evaluation immediately. Radicular pain patterns often indicate neurological compromise at the spine. These must be evaluated by a qualified physician. Occasionally, a tight piriformis can cause radiating pain in the buttock and leg. This is called piriformis syndrome.
To stretch a tight piriformis, begin by lying flat on your back. Bend both knees to approximately 90 degrees and keep feet on the floor. Bring the knee of the painful leg up ward your chest. Then take both hands and slowly pull the knee toward the opposite shoulder until a slight pull is felt across the back of the buttock. Hold the stretch for 20-30 seconds and repeat. Do this 2 times daily.
Continue Learning about Pain Treatment