Local numbing is used for minor procedures, such as stitches or wart removal. It involves injecting a local anesthetic into the surgical area to block pain. The patient remains awake.
Regional anesthesia, such as an epidural, is used to numb a bigger area of the body, such as the legs. The anesthesiologist injects a numbing agent around major nerves to block pain. In kids, regional anesthesia may be given for procedures involving the abdomen, arms, or legs. The patient remains awake, but often children are also given a sedative to help them relax.
Sedation, sometimes referred to as "twilight sleep," is used to relieve anxiety and/or pain during a procedure. If your child receives regional or even local anesthesia for a procedure, he will be awake for it, but a sedative will likely be combined with the anesthesia to improve his comfort level—and decrease his squirminess.
General anesthesia is the out-cold variety. If your child needs surgery, the anesthesiologist will most likely recommend going this route because young children simply can't stay still during most operations, even relatively minor ones. The anesthesiologist administers the anesthesia through an IV drip and/ or an inhaled gas. General anesthesia affects the brain as well as the entire body, so your child will not feel pain or remember the surgery. Know, too, that your child will have a breathing tube and be hooked up to a ventilator to assist him in breathing while under general anesthesia.
From The Smart Parent's Guide: Getting Your Kids Through Checkups, Illnesses, and Accidents by Jennifer Trachtenberg.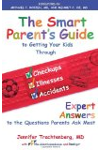 Continue Learning about Pain Treatment