There are three classes of antispasmodics, or drugs that decrease gut contraction and spasm:
Anticholinergics work by blocking the effects of the parasympathetic branch of the autonomic nervous system. Examples include dicyclomine (Bentyl is a brand name), hyoscyamine (brand names Anaspaz, Levsin, Levsinex and NuLev), glycopyrrolate (brand name Robinul), methscopolamine bromide (brand name Pamine) and propantheline (a brand name is Probanthine). One drug (a brand name is Librax) is an anticholinergic drug called clidinium combined with a benzodiazepine antianxiety drug called chlordiazepoxide. Another (brand names Donnatal and Donnatal Extentabs) combines two anticholinergic drugs called atropine and scopolamine with a barbiturate antianxiety drug called phenobarbital.
Direct smooth muscle relaxants act directly upon the smooth muscle of the gut. Studies show that the direct smooth muscle relaxants may be the most effective of the antispasmodics, but these drugs are not available in the United States. Examples of direct smooth muscle relaxant drugs include octylonium, mebeverine and trimebutine.
Peppermint oil is thought to work by decreasing calcium entry into muscle cells, resulting in muscle relaxation. Enteric-coated preparations may be preferable to unprotected peppermint because they allow delivery of the peppermint oil to the colon. Peppermint oil may or may not be effective. Scientific studies of the oil's use are inconclusive.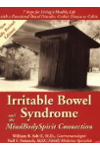 Continue Learning about Pain Treatment