Visualization of ideal movement is difficult for many people with chronic pain conditions. This is largely because they are unfamiliar with the anatomy of their injuries or the reasons their injuries exist.

Most chronic pain is the result of years of poor movement habits -- habits that have taken on the guise of "natural" movement, even though these are actually unnatural and harmful habits (also called movement dysfunctions or movement faults). What they "visualize" as ideal movement needs to change.

You can practice visualization by closing your eyes and moving your arm or head in a certain way. With your eyes closed, picture where you think you've moved it. Then open your eyes. Is it exactly as you pictured it? Is the hand rotated the same way? Is your shoulder sitting as high or low as you expected? Is your head tilted a little more than you thought? Is your gaze looking higher than you imagined? Keep practicing this until your visualization matches your actual position. Have fun with it! You're exploring!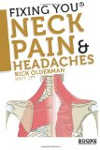 Continue Learning about Pain Treatment