Over-the-counter medications are used for mild to moderate pain of arthritis, neck pain, back pain, overuse, and injury. Aspirin blocks the production of prostaglandins, the chemicals in the body that trigger pain, inflammation, and swelling. Aspirin also helps reduce inflammation and pain, but in higher doses it increases the risk of serious side effects such as peptic ulcers and bleeding. Ibuprofen and naproxen are available over-the-counter in doses that have a low risk of side effects, if taken as directed. Acetaminophen elevates the pain threshold, so you perceive less pain. Acetaminophen can help ease pain with few side effects, if taken as directed on the label.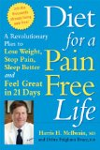 Over-the-counter (OTC) pain relievers are analgesic medications that are available without a doctor's prescription. They can help to reduce or control minor to moderate aches and pains. OTC pain relievers also reduce fever and many, but not all of them, decrease inflammation.
Although the two classes of pain relievers, nonsteroidal anti-inflammatory drugs (NSAIDs) and acetaminophen, both reduce pain and fever, they work in different ways.

Acetaminophen relieves pain by blocking the pain message from reaching the brain. It reduces fever by working directly on brain areas that control temperature. Acetaminophen does not control inflammation.

NSAIDs relieve aches and fever by interfering with the production of prostaglandins, which are compounds that sensitize nerves to feel pain. With fewer prostaglandins circulating, people feel less pain and experience a reduction in symptoms associated with inflammation as well, such as fever, swelling and redness.

NSAIDs block prostaglandin formation by inhibiting two enzymes responsible for their formation, cyclooxygenases I (COX-1) and II (COX-2).
Continue Learning about Pain Treatment