The hand on head exercise activates the upper trapezius muscle to elevate your scapula (shoulder blade) and relax the levator scapula. I've found this to be a useful exercise for nagging neck and shoulder pain, and it can be done almost anywhere.

Simply place your hand on top of your head. Relax your arm. Feel that your shoulder is slightly elevated when in this position, and that the upper trapezius muscle (located between shoulder and neck) is activated to hold up your shoulder. You can be sure the trapezius is activated by feeling it with your other hand, making sure it is firm from contracting. Be sure your head is in good alignment -- do not let it side-bend or rotate to either side. Let the weight of your arm rest on your head. Neck pain should be relieved almost instantly if it is originating from the shoulder blade.

Only one repetition is necessary to relieve pain. Hold for 30-60 seconds, then relax. When you lower your arm back down, keep the upper trapezius contracted until your arm is all the way down to your side; this helps strengthen and train the upper trapezius muscle. You may feel that your shoulder is resting slightly higher than it was before performing the exercise.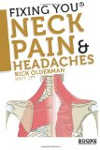 Continue Learning about Pain Treatment